This kitchen renovation customer wanted to use their walkout basement as an apartment. So a kitchen and bathroom needed to be added. In order to have enough space for the new additions, a major renovation was in order. We were able to utilize a former utility garage that had been used as a storage room for a while.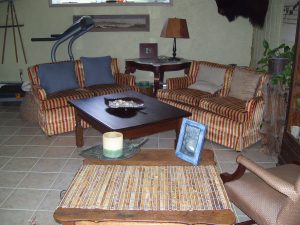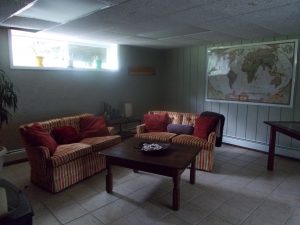 The real problem was how to get drains from the kitchen and bathroom up to the lines that went to the septic. We discussed a few options with the customer, including a new septic, and it was decided to install a grinder pump.
To solve this kitchen renovation puzzle we were able to move the laundry room into the old garage and form an attractive and practical entry/mud room with the washer and dryer as well as a walk in coat closet. In the other half of the old garage we installed the new kitchen. And finally in what was the old laundry room and utility room we were able to install the new bathroom along with new utilities.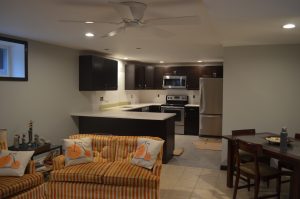 This photo has most of the work done but if you compare it to the main photo it has all the extra finishing in place.  This is what it looked like before the finishing touches!
If you have questions about a kitchen renovation and would like to learn how to make the most of your existing space, please contact us. We can sit down with you and give you some design ideas and an estimate to fit your needs. You can find some more examples of our renovation work on our instagram page.